Although all organizations understand and accept on-premises endpoints must be protected against data loss, with various strategies developed to improve data protection and recoverability such as the 3-2-1 backup rule.
With increasing adoption of cloud storage used for file synchronization across different devices, file sharing, and team collaboration for example OneDrive, Google Drive, Dropbox etc. In addition to SaaS (Software as a Service) platforms for daily workflows and communications such as Microsoft 365, which has resulted in critical business data predominantly residing on the cloud. Some organizations are under the impression their data in the cloud is much more secure compared with physical storage devices, therefore regular backups are not required. However, the top priority of cloud storage and SaaS providers is to ensure high availability of their services rather than data protection.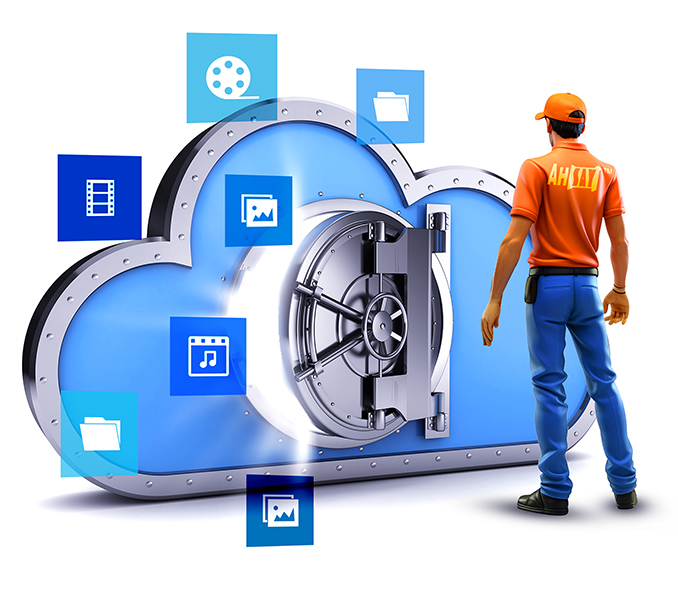 Therefore, it is crucial for data stored on public or private cloud to be protected, as it is exposed to the same or even higher risks as on-premises endpoints to data loss such as human error, data corruption, disgruntled employees, malware, ransomware, and hackers.
When your cloud data are backed up with Ahsay using the latest data protection technologies; Immutable backups, AES 256-bit data encryption, Two-factor authentication, Restore Drill etc a complete recovery is guaranteed in case of disaster.
Ahsay a secure, reliable, and affordable cloud backup solution
Ahsay offers a secure, reliable, and affordable backup solution for data stored on public or private cloud storage services and on-premises endpoints to our own branded cloud storage "Ahsay Drive" which is powered by Microsoft Azure, as well as to other public or private cloud storage service and to FTP/SFTP servers or service.
Flexible annual subscription plans
Ahsay customers are free to choose the type of subscription plans that best suits their needs such as file backup plan for basic protection of PCs, notebooks, NAS devices, and Android/iOS mobile devices. For enterprises an option for backup of databases & virtual machines, or Microsoft 365 option for complete protection of Microsoft 365 organization including Outlook, OneDrive, SharePoint, Teams, and Public Folders. All within a single annual subscription plan, customers can get bigger discounts if you subscribe for longer period plans of 2 years or 3 years. For pricing details, click here.
Using your designated storage
Each subscription includes a competitively priced cloud storage "Ahsay Drive" with no additional egress or transfer fees, which is powered by Microsoft Azure. Customers also have the option to bring your own disk (BYOD) if they already have an existing public or private cloud storage service or physical storage, with the added advantage of even lower subscription fees.
Supporting unlimited devices / endpoints
Enterprises always have demand for backups of database servers, virtual machines, NAS devices, Microsoft 365, and Android/iOS mobile devices. Ahsay supports the backup of unlimited devices /endpoints under a single subscription plan. It is much easier to manage all your backup data under one plan and very cost efficient.
Free unlimited upgrade to latest version
Free unlimited upgrades to latest version, to make sure your backup software is always up to date, with the newest features, and latest security protection to keep your backups running smoothly and securely.
Free technical support
Free technical support, with multiple channels for customers to get immediate assistance. For example, you can contact Ahsay technical support via WhatsApp or contact us form.
How to perform a cloud backup?
Please refer to the following instructions: