Ahsay backup provides complete protection for all your guest VM's running on latest versions of VMware vCenter/ESXi, VMware Workstation, and VMware Fusion.
Simple, reliable and flexible solution for VMware protection.
Instant recovery to meet recovery objectives.
Scalability to meet growing needs.
Ensure business continuity/disaster recovery (BCDR)
When your guest VM are backed up with Ahsay using the latest data protection technologies; Immutable backups, AES 256-bit data encryption, Two-factor authentication, Restore Drill etc. You will have full confidence in your organization's ability to perform complete data recovery in disaster.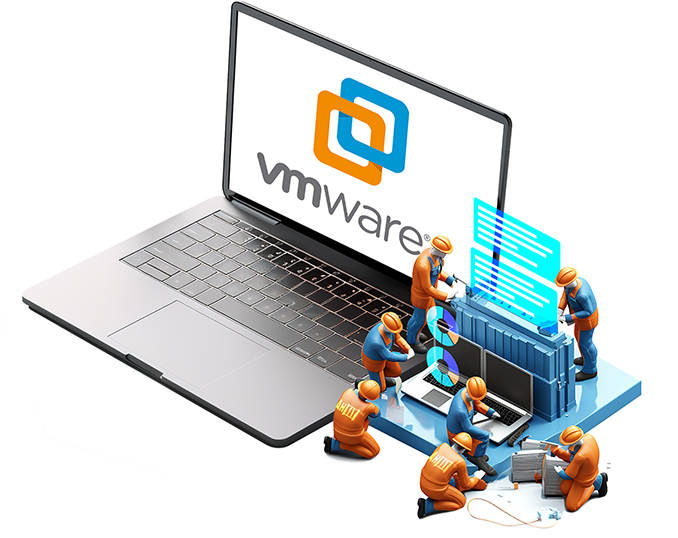 Secure, reliable, and fast backups
To ensure data reliability, reduce the amount of backup data transferred, and ultimately improve backup performance, Ahsay uses a range of different technologies:
Select all VMs or specific VMs to backup.
Select all or specific virtual disks of each VM to backup.  
VMware takes a snapshot to capture the entire state of the guest VMs to ensure complete data consistency in preparation for a backup.
Application awareness on Windows guest VMs means all data in memory and pending transactions are automatically flushed to disk to guarantee application-level data consistency.
VMware CBT (Change Block Tracking) technology to detect data block level changes on a guest VM, which means only data blocks that have changed since the last backup job are included in the backup data.
Automatically excluding the swap file and deleted data blocks on the virtual disk(s) from the backup data. 
Data deduplication detects and removes duplicate data, only backing up unique data. This can result in up to 90% reduction in storage usage and costs.
Data compression is for further reducing the size of the backup data.
What are the benefits?
Ahsay provides an intuitive user interface to guide you through the automated recovery process directly on a live production server or standby server. For advanced users, there is an option for manual recovery of VMs.
Standard recovery options:
Restore guest VMs to the original location on the same VMware host.
Restore guest VMs to an alternate storage location on the same VMware host.
Restore guest VMs to an entirely different VMware host.
Restore guest VMs as raw files for manual recovery on the same VMware host or a different VMware host.
Advanced recovery options:
Using granular restore, mount the virtual disk(s) of the guest VM directly from the backup file located on the backup destination. Then use Ahsay UI or Windows File Explorer to recover files/folders.
Using VM Run Direct, start running a virtual machine directly from the backup file located on the backup destination. Without the need to physically restore it to the VMware host.
Using Live Migration can physically restore the running guest VM back to the VMware host.
 
How to backup VMware?
Please refer to the instructions in the Get Started Guide.