A backup solution is an application that enables the creation of a copy of important files, folders, databases, virtual machines, or generally any data stored on a server, PC, notebook, mobile device, physical storage, or cloud storage, which stores in an alternative location; onsite, offsite, and or in the cloud. So, users can recover in case of data loss due to natural disasters, disk failure, file corruption, accidental or malicious deletion, ransomware attacks etc.
Enterprises must have a secure and reliable backup solution to protect them against data loss. Enterprises can recover their data to resume business quickly. Ahsay is your best backup solution. Let's explain.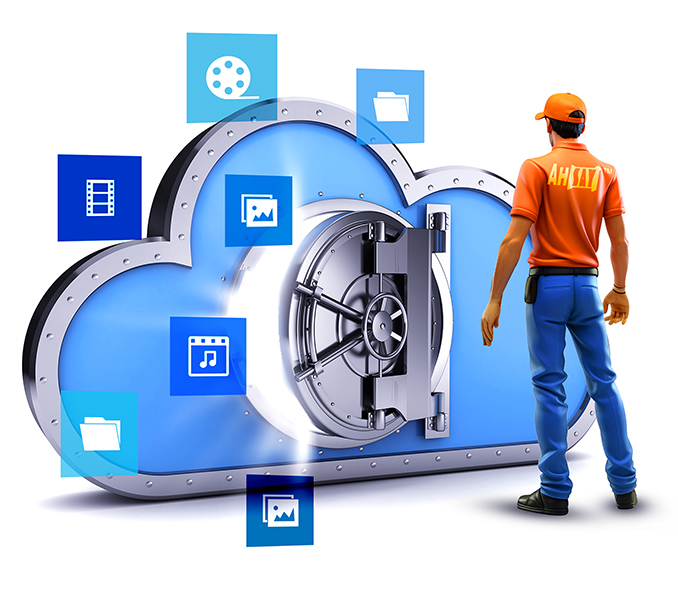 Why choose Ahsay backup?
All-in-one backup solution
Ahsay is an all-in-one backup solution which provides both cloud backup of Microsoft 365, Google Drive, Amazon S3, Dropbox, OpenStack, Rackspace, Wasabi, FTP, SFTP and on-premises backup of VMware, Hyper-V, Exchange, SQL, Oracle, MySQL, MariaDB, QNAP/Synology NAS as well as Android/iPhone etc.
With Ahsay's immutable backup, your the data files cannot be encrypted, deleted, or modified. Therefore, it protects your backup data from human error, ransomware, or hackers.
Enterprise-grade security
Data is protected by AES 256-bit encryption both during transit and at rest, along with Two-factor authentication (2FA) which safeguards your backup data from hackers. Ahsay is, beyond doubt, the best and most affordable backup solution for both personal and business use.
Ahsay features advanced data deduplication and compression technology, which helps to reduce your storage usage and cost by up to 90% for virtual machines, 60% for databases, and 50% for regular files.
With the Ahsay Restore Drill feature, you can fully automate regular testing of your backups. It gives your data a regular clean bill of health. If corrupted data is found, you will be alerted, and Ahsay will run a backup job to ensure the latest files are uploaded.
Backup data to multiple storage destinations, including; local drive, network share, FTP/SFTP server, and public cloud storage sequentially or concurrently. You can implement the 3-2-1 backup rule for maximum data protection with multi-destination backup.
Cross Platform Support
Ahsay support backup of servers, PCs, and notebooks running on Windows, macOS, Linux, and FreeBSD operating systems.
Ahsay pricing offers an incredible price of as low as $1.50/month. The most affordable backup enterprise solution available in the market.
 
Don't take our word for it! Read what our customers are saying about Ahsay backup in our user reviews or success stories.