Losing data can cause significant damage to any organization. Thus, data protection has become a critical aspect of any business. Continuous data protection (CDP) is a method that protects data by automatically saving a copy of every transaction or change made to the data. We will discuss what is Ahsays' continuous data protection and how to achieve continuous data protection.
Continuous Data Protection (CDP) or continuous backup, is an advanced backup feature which automatically makes a backup whenever changes have been made to specified files/folders. As continuous backups are run very frequently, i.e. every few minutes or hours depending on the data type. The advantage is that organizations can use it to limit the amount of data loss down to a few minutes effectively.
Continuous backup is ideal for the protection of critical and or frequently modified files, as it will generate multiple time-based versioning of these files which allows for the convenient and fast recovery of files that were deleted due to human error, corruption, or even encrypted by a ransomware attack back to any point in time before they were lost.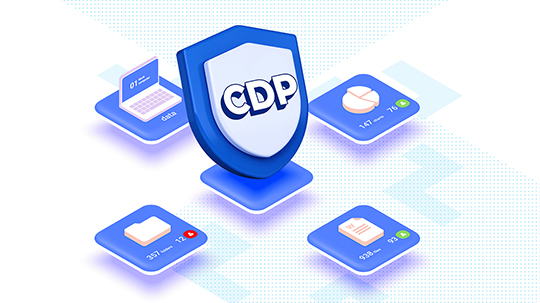 Ahsay's continuous backup is equipped with special features to make it easier to protect critical files, such as; excluding system files and files over a specific size, as well as more advanced filters to exclude or include particular types of files.
How to Achieve Continuous Data Protection
Understanding Continuous Data Protection
Continuous data protection is a technology that provides real-time backup of data by capturing every change made to the data. This technology creates a backup copy of the data at every point in time, allowing users to recover data at any point in time. CDP ensures that data is always protected, even in the event of system failures, data corruption, or accidental deletion, as it maintains a sequence of recovery points.
Implementing Continuous Data Protection
To implement continuous data protection, businesses must choose a solution that aligns with their specific needs. The solution should be scalable, automated, and easy to use. A CDP solution should also offer fast and efficient disaster recovery, replication, and data migration capabilities. In addition, it should have features such as point-in-time recovery, instant recovery, and versioning to enable users to recover data from any point in time.
Benefits of Continuous Data Protection
Continuous data protection offers several benefits, including reduced data loss, improved recovery times, and minimized downtime. With CDP, businesses can restore data to any point in time, ensuring that they can recover their data even in the event of a disaster. CDP also ensures that there is minimal data loss, as it captures every change made to the data. This technology also provides faster recovery times and minimizes downtime, ensuring that businesses can get back to their operations as soon as possible.
Continuous data protection is an essential aspect of any business data protection strategy. It ensures data is always protected, even in the event of disasters, system failures, or accidental deletion. By implementing continuous data protection solutions, businesses can reduce data loss, improve recovery times, and minimize downtime. With the right solution, businesses can achieve continuous data protection and ensure that their data is always safe and secure.