Managed Backup Service (MBaas)
Backup Software Only (DIY)
Ahsay Managed Backup-as-a-Service 15-day free trial registration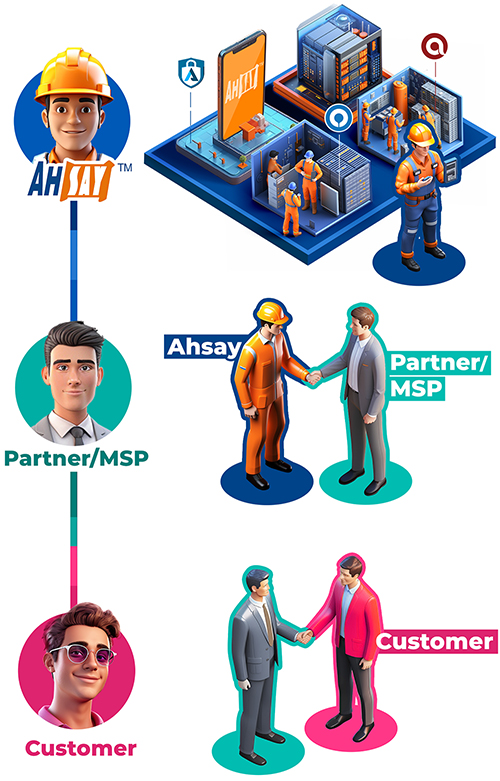 Ahsay Managed Backup-as-a-Service (AMBaaS)
For MSPs who prefer not to host or maintain their backup server and infrastructure. With a simple storage-based pricing model, with the option of using either an Ahsay branded or a co-branded service.
No hardware provisioning required.
​No storage provisioning required.​
​No complicated server installation.​
​No advanced technical skills required.​
​​No Hassle! Up and running in no time at all.​​
The smartest way to start your backup business is to sign up with Ahsay Managed Backup-as-a Service. A platform which allows MSP's to quickly start their backup business with minimal cost, risk, and time. As the backup server is hosted and monitored by Ahsay, you can offload all AhsayCBS backup server maintenance and management tasks to our experience IT team. Leaving you to focus 100% on marketing, sales, and customer service to grow your backup business.
---
Ahsay Free Trial Registration
Register now for a 15-day free trial. It only takes 2 minutes to complete! You can start your free trial straight away.
Upon successful trial registration you will be provided with:
A private pre-installed and configured AhsayCBS backup server instance.​
​​A customized unique URL​
​100GB of free cloud storage.​
A pre-configured login account to AhsayCBS backup server web admin console.
​A pre-configured AhsayOBM user account.​​
First Name:
Last Name:
City:
(**used to determine the region your test environment is hosted)
Personalized URL:
(**used for custom URL of your test environment, example
myhostname.onahsay.com
)
Email (Login Name):
(**used to send you the details of your test environment)
We will email you the login credentials when everything is ready.
Submit
Ahsay Self Hosted Backup Solution 60-day free trial

Ahsay Self Hosted Backup Solution
For MSPs who prefer to host and maintain their own backup server either on premises or in the cloud. Who needs to offer a fully branded backup solution to their clients.
Requires physical hardware or VM for a backup server.
​Windows or Linux/FreeBSD operating system. ​
​Requires physical or cloud storage setup.​
​​Technical knowledge on network setup, firewalls, SSL certificate setup etc.​
Gives you full control to customize and manage your backup infrastructure.
AhsayCBS is the core Ahsay backup server application. It is used to provision and manage user accounts, backup storage, monitor backup & restore status, reporting, manage data replication and load balancing, manage automatic upgrade of backup client agents etc.

AhsayUBS (Ahsay Universal Backup System) is a cost effective and easy to use operating system, which is fully integrated with AhsayCBS backup server application.

AhsayPRD proxy redirector is a free tool that enables MSPs to run multiple AhsayCBS backup server instances on a single server.

Ahsay Mobile is a license free app for Android and iOS devices used to backup photos, videos, audio and document files on mobiles devices. As well as a two-factor authentication (2FA) tool to secure your backup data against hackers.