VMware ESXi Backup Solution for MSPs
Instant VM Recovery. Live VM Migration. Low Price
Offering you the absolute best VMware backup solution, Ahsay promises quick, safe and easy protection for your entire VMware environment. We have configured our system to be easy to use, even for newbies. Our VMware backup software ensures fast VMware backup that can help your business customers back up their virtual machines to their local as well as cloud storage quickly. Our new VM Run Direct feature allows you to instantly run a VM from its point in time backup file in just a couple of minutes for disaster recovery.
Easy deployment
To back up your VMware system, you just need to install AhsayOBM client backup application with Ahsay VMware Backup Module enabled on your vCenter , or a standalone machine that is on the same network as your vSphere hosts. After proper configuration of VMware backup set, such as select the Guest VMs to back up, configure the backup schedule, destinations, retention policy and VM Run Direct settings, etc. Guest VMs will be backed up to local storage, network share, centralized backup server (AhsayCBS) or cloud storage automatically. You can also replicate the data on the backup server (AhsayCBS) to a replication server or to cloud storage for additional protection.
Backup through vCenter or a standalone machine
Ahsay VMware backup solution can be deployed in VMware environment with or without a vCenter server, therefore highly flexible. Even you just got one or two ESXi host without vCenter, you can still properly backed up them.
VMware VDDK / CBT supported
Our solution supports the latest VMware's native VDDK and CBT technologies that enable fast incremental backup and recovery of your Guest VMs.
ESXi free version supported
Unlike other backup solutions which only support ESXi paid version, Ahsay VMware backup solution extended our support to ESXi free version users. Although you can't use fast VDDK mode with CBT, you can still make use of our non-VDDK mode to back up all your VMs.
VM disaster recovery
If a backed up VM is failed or deleted accidentally, our VM Run Direct feature allows you to keep the downtime within minutes, as you can run the VM directly from its backup file without the need to restore the backed up image into the original VMware ESXi host first.
Point in time VM restore
Our VM Run Direct or full VM restore allow you to run or restore a VM from any point in time that it was backed up. The VM will be run or restored in exactly the same state as it was during the backup, and will appear on the VMware ESXi host you selected for restore.
Live VM migration with or without vMotion
With the VM Run Direct feature, you can choose to migrate the running backup VM to its original or an alternate host machine with or without VMware vMotion license.
Multi-threading
Multi-threading in Ahsay VMware backup solution well utilizes the computing power of multiple CPU cores for creating multiple backup and restore threads to give you super-fast VM backup and restore performance.
Lan-free backup and replication
Ahsay VMware backup solution allows you to use fiber-channel and iSCSI SANs to reduce your network loading and increase the backup data transfer rate significantly.
Multi-destination backup to local and cloud destinations
You can back up the VMware Guest VMs to multiple destinations to minimize the risk of data loss, including local drive (of the vCenter or standalone machine), network share, FTP/SFTP server, and public cloud storage sequentially or concurrently.
Flexible retention policy
Ahsay VMware backup solution allows you set flexible retention policies, including daily, weekly, monthly, yearly policies to suit your IT audit and compliance needs.
Unhackable 256-bit truly randomized encryption key
If you are backing up to public cloud, you can turn on the encryption feature which will by default encrypt the backup data locally with 256-bit truly randomized encryption key which is impossible to be hacked even by brute force attack by supercomputer.
Encryption key recovery
System administrator can force users to upload their hashed encryption key to the centralized management console so that when a user has lost his/ her encryption key, the system administrator can engage our encryption key recovery service to get the key back for that user.
Manage all backup users through a centralized web console
In case you have many VMware hosts managed by many system administrators, Ahsay VMware backup solution allows you to create multiple backup user accounts for these administrators in a centralized management software, and centrally monitor and manage their activities through a web console. Clear audit trail is available for compliance purpose.
Fully rebrandable for MSPs
All graphics and wordings in the AhsayCBS centralized backup server and AhsayOBM client backup application are fully rebrandable and customizable for MSPs.
Video Demos

How to run a VM (VMware ESXi) immediately from backup file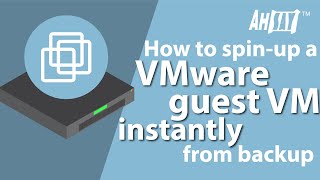 How to perform VMware Run Direct without Migration in AhsayOBM v7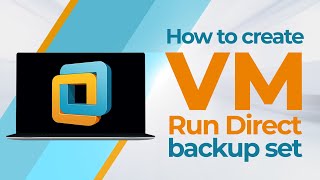 How to create VM Run Direct backup set with AhsayOBM v7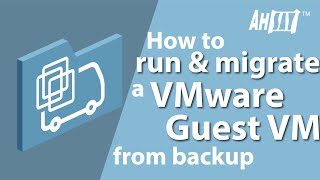 How to run and migrate VM directly from backup with AhsayOBM v7
How Ahsay VM Run-Direct works
---
Learn more