QNAP and Synology NAS Backup Solution

Centralized Management. Rebrandable. Low Price
Being recognized as the best centralized backup solution for managed service providers (MSPs), Ahsay offers Quick, Secure and Easy on-premises and cloud backup solution for protecting your customers' QNAP and Synology NAS devices. Data on the NAS can be backed up to on-premises local storage for quick day-to-day restoration, as well as your datacenter or cloud storage for disaster recovery. All customers' backups can be monitored through a single pane of glass. The whole solution is totally rebrandable and can be integrated into your existing managed service offerings.
Easy deployment
Deployment for Ahsay QNAP / Synology NAS backup solution is easy and flexible. For the server side, 3 deployment options can be adopted: You can deploy AhsayCBS server side centralized management software 1). on your customer's site, 2). in your datacenter, or 3). on a public cloud platform such as Microsoft Azure or Amazon EC2. When AhsayCBS is ready, simply create a dedicated user account for each QNAP / Synology NAS device that needs to be backed up.
On the client side, you just need to install AhsayOBM client backup agent (with QNAP / Synology NAS Backup Module enabled) onto the QNAP / Synology NAS device. After proper configuration of the backup server URL, backup schedules, destinations, encryption settings, etc., backup will be run automatically according to your defined schedules.
Both the AhsayCBS server side application and AhsayOBM client side backup agent support the use of public and private cloud storage (e.g. Amazon S3, Microsoft Azure, Google Cloud Storage, OneDrive, Google Drive, Dropbox, FTP/SFTP, etc. for storing the backup data. If a cloud storage is configured on AhsayCBS, then users can choose or be forced to back up to that cloud storage. Alternatively, each user can also choose to back up to his/her own cloud storage account.
Instant replication can also be configured for additional protection on the backup data if AhsayCBS is installed on your own server.
Direct installation on QNAP QTS / Synology DSM
The client side backup agent of Ahsay Synology NAS backup solution is directly installed on QNAP QTS / Synology DSM so that you don't have to mount the NAS as network share for making the data accessible as required by other backup software.
Access AhsayOBM through QTS / DSM's web interface
Since AhsayOBM is installed on QTS / DSM, user can access the AhsayOBM through the QTS / DSM web interface to edit backup settings, trigger manual backups, perform file restore, check backup and restore reports, etc.
Multi-destination backup to local and cloud destinations
A user can back up data in QNAP / Synology NAS to multiple destinations including on-premises network share, FTP/SFTP server and public cloud storage sequentially or concurrently to minimize the risk of data loss.
Centrally manage all users' backups
AhsayCBS centralized management application allows you to centrally manage all QNAP / Synology NAS as well as other types of backup users, monitor their backup jobs, update their client agents, trigger manual backup through a single pane of glass. Clear audit trail is also available to satisfy compliance requirements.
In-File Delta acceleration
With our In-File Delta speed acceleration technology, only changed blocks are backed up each time. During restoration, these blocks will be combined with previous backups to synthesize a new full backup for quick recovery.
Point in time restore
Our solution allows your QNAP / Synology NAS user to restore a file from any point in time that it was backed up. The user can even restore multiple versions of a file through a single restore operation if needed.
Flexible retention policy
Our solution allows you to set flexible retention policies, including daily, weekly, monthly, yearly policies to suit your IT audit and compliance requirements on keeping historical data.
Unhackable 256-bit truly randomized encryption key
For backing data up to cloud, data security can be ensured by enabling the 256-bit truly randomized encryption so that the AhsayOBM backup agent will encrypt the backup data locally on QNAP / Synology NAS with a 256-bit truly randomized encryption key that is impossible to be hacked even by brute force attack with supercomputer.
Utilize cloud to eliminate hardware investment
As the cost for SLA backed cloud computing platform and storage has become very affordable, you can deploy AhsayCBS on cloud platform and utilize cloud storage as your centralized data repository so as to save the cost on hardware investment and maintenance.
Enterprise scalability
The scalable one to many server-client architecture of Ahsay QNAP / Synology NAS backup solution is highly scalable for MSPs with any number of users. For MSPs with large user bases, server-side redirection module can be utilized for redirecting users to different backup servers.
Fully rebrandable for MSPs
The whole Ahsay QNAP / Synology NAS backup solution is fully rebrandable for MSPs. All logo images and wordings in the software user interface can be customized. You can even hide the unwanted features to your users by using Group Policy feature in AhsayCBS centralized management console.
Video Demos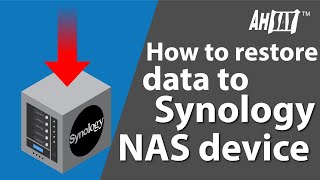 How to restore files to a Synology NAS device using AhsayOBM v7.5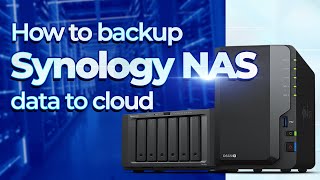 How to install and configure AhsayOBM on a Synology NAS device
Screenshots
---
Next